The great regrouping of Global Social Media is just starting.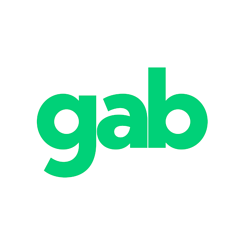 In the last four days 1.7 million new users have signed up to Gab — an alternative site to Twitter. The surge is so strong the site is swamped under the load. Gab are upgrading all the servers to deal with the growth. (The CEO is asking for patience).
Gab has already been thrown off both the big Ap Stores and Amazon too, back in 2018. To ensure that wouldn't happen again, they bought and set up their own private servers.  (The internet really is hardware, after all).
They not only set up their own servers, they even created their own web browser (called Dissenter). They also built a video platform (Gab.TV.) and an encrypted email chat messaging service (Chat.Gab.).I have used Dissenter for months. I like it. There are rumours they are working on a Gab Phone as well.
Nothing will hurt Google, Amazon and Twitter like losing half their base.
Look at the vilification this 30 year old outspoken Christian has had to endure:
As a result of Torba's free speech principles, both Gab and Andrew have been no-platformed and banned by 25+ service providers over the years including both App Stores, multiple payment processors, and hosting providers.
Torba himself has been personally banned from online banks, cryptocurrency exchanges, and Twitter for many years now. His family is also blacklisted by VISA.
Andrew Torba has also faced numerous threats of violence, doxxing, stalking, and more for his fight to defend free speech online for all people.
Want to see ALL Donald Trumps Tweets?
The CEO Andrew Torba had the wit to back up President's Trumps entire Twitter account before it was deleted.
Gab CEO Pulls Off The Impossible For Trump… INCREDIBLE!

"Gab CEO completely backed up Pres. Trump's Twitter account before it was deleted & recreated him on Gab! What's even more impressive is he did this while traffic was up 700% & under attack..https://t.co/F3olVzPpYy

— Liberty Times & Politics 🗣 #FreeSpeech (@dmills3710) January 13, 2021
So far President Trump has not added any new tweets Gab's mirror account: @realdonaldtrump. (Which is very slow to load).
It's possible to read all the Presidents tweets without Warnings and deletions. Not being treated like a baby might catch on?!