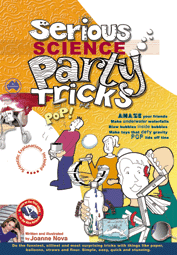 Do the funniest, silliest, and most surprising tricks with things like paper, balloons, straws and flour. Simple, quick, easy and stunning. An activity book to keep you engrossed for hours.
65 pages – over 100 illustrations – A4 size
Packed with activities like; lids that pop off tins, air-powered rockets, slime, bubbles, ice castles, straw whistles and toys that seem to defy gravity.
The book is excellent – the kids are going to love it during the school holidays! Thank you again.
Darren Brumby, 11 Sept 2008.
Price: $14.95 AUD plus $2.50 postage (Australia)*
Price: $14.95 AUD plus $2.50 postage (Overseas)*
To Order: Use the buttons here with Paypal at the bottom of this page.
Here are pages 30, 31 and the contents page.

Click on a page for a bigger image.
Contents: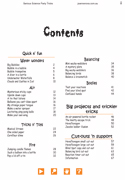 Click on the image of the contents page to read it.
The most popular experiments
Each of the tricks and experiments in the book are there because they've proved to be a hit. Some of them were the most requested experiments from the first series of Y?. Others were the ones that audiences love the most.
A paper puzzle with a secret hidden panel,
A rocket made form a plastic bottle,
Bubbles you can poke your hands through without popping,
A plate that hangs far off the edge of the table without falling, and
A ping pong ball suspended in mid-air
Australian Orders
US Orders
There's a full money back guarantee. If you are not happy for any reason, return the book(s) and we'll give you a refund for the cost of the books. We regret we are unable to refund postage costs, or the cost of returning the book(s) to us. If you are overseas, email us, and we'll see what we can sort out. We want happy customers. Hey, no one has asked for a refund yet! :-).

*For postage in Australia. There are discounts for bulk purchases, the prices on the button menus include postage and bulk discounts. Email me if you'd like to buy wholesale quantities (i.e. greater than 10).